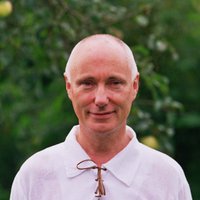 Tareth - sidste nyt!
Tareth har den 26. marts sendt os dette link til en meditaion på hans hjemmeside.

http://tareth.co.uk/videos/Meditation_for_these_challenging_times.mp4
March 2020 Thoughts on corona virus
Dear friends,
We are experiencing a very interesting time. The corona virus is bringing up all kinds of things, both positive and negative. There is a strong rising of community spirit, of caring for each other, which is an essential part of our progress as earthly and spiritual beings. Our compassion for those suffering from this event helps to build that community feeling and can help to make positive changes in society.
Let us take a little time each day to sit quietly joining hearts and minds to the divine consciousness of love and send out our thoughts to each other and join together in that way as well as whatever we can do to be of practical help to each other.
Love, Tareth
Vi har den 16. marts sendt følgende nyhedsmail ud:
Først og fremmest håber vi at I allesammen har det godt.
På grund af Corona situationen er Bispen i Haderslev, hvor vi holder arrangementerne, blevet lukket fuldstændig ned og alle arrangementer er blevet aflyst i første omgang til udgangen af april.
På baggrund af dette og den åbenlyse smittefare og indrejseforbuddet, aflyser vi derfor alle aktiviteter med Tareth der er planlagt i april dette gælder også de private sessioner, der har været aftalt i forbindelse med hans besøg.
Tareths næste besøg er planlagt fra den 2. til den 4. oktober, hvor vi håber situationen i Danmark er blevet normaliseret. Men det skriver vi nærmere om senere.

Pas nu godt på jer selv og hinanden

De kærligste hilsener
Uwe og Asharma
Datoerne for Tareths næste besøg er fra den 17. april til den 19.april 2020.Derefter kommer han igen senere på året fra den 2. til den 4. oktober.
Begge gange med nogle aktuelle emner. Der sker som regel altid både spændende og forunderlige ting Så reserver datoerne i kalenderen.
Så snart vi ved mere om de forskellige arrangementer, lægger vi det ud her på siden
Imellem hans besøg er der i løbet af året flere søndage med gralsgruppen og os, hvor alle er velkommen. Vi er ved at finde datoerne.

Vi håber selvfølgelig at se rigtig mange til nogle spændende og dejlige dage sammen også i 2020.
Er du interesseret i at høre mere, så kontakt os på innerlightdk@yahoo.dk eller
tlf. 29 89 51 87
Under punktet Innerlightcenter finder du en række nyttige kontatkoplysninger og links.
**********
Workshop
To dages Workshop
'Planetary & Chakra Frequencies – The Song of the Soul'
TARETH
We live in a family of the Sun & the Planets that play a part in our communication with the source and our spiritual development. The work we do together will lead to a beautiful process called 'Sunrise through the Chakras'. We will work with the sounds of the Planets, their qualities & how they connect to our thoughts, feelings, emotions and how each resonates with our Chakras. Once you have learned this process you will be able to use it in your life to clear the inner space, which helps to make a deeper communication with your higher consciousness that creates new ways of understanding.
Tareth has opened Earth energy center's 'manifesting unique sounds' that contain light-body frequencies, these beautiful & profound manifested sounds also include the 'Planets within our Universe'. Each planet's individual frequency, subtly influences the Chakra's that expand as we awaken to eventually become 'One Unified Chakra' becoming the 'Light-Body'.
As well as this main focus, as always there will be time to give healing & help to each other. Tareth will also tell you about the exciting development of 'New Transmissions' to come through soon for another step in the process of Awakening on our Planet, which will include new sounds.
Now the time is ready to open the Grail within as a gift for humanity. All that we do with an open heart positively contributes to the collective consciousness. We will joyfully celebrate in preparation for new transmissions to come. These times are exciting and what we give in service to others, ready to awaken to their Soul purpose, is your greatest gift.
Sted: Aktivitetshuset Bispen
To dages workshop
Bispebroen 3, 6100 Haderslev
lørdag den 18. april og søndag den 19. april 2010
kl. 11.00 – 18.00
Tilmelding: Tel.: 29 89 51 87 eller mail: innerlighdk@yahoo.dk
Healingsaften
Blessings from the Source
This is a silent unconditional time of healing for all.
Tareth will lead a meditation and help us create a sanctuary of healing and love.
It is in this divine space that Tareth can manifest beautiful perfumed oil from his hands.
When Tareth manifests perfumed oil or sound it is a sign that we are never alone, what really manifests is love.
Be in the blissful connection of oneness, come and receive loving healing for empowerment of the Light that you really are.
Everyone will receive healing
Man behøver ikke nødvendigvis at være syg for at modtage healing. Healing virker på alle planer også hvis man har en stresset hverdag og ønsker mere energi og overskud.
Alle der har lyst til at deltage er velkommen denne aften, hvor muligheden for at der vil blive manifesteret healende duftende olie er til stede.
Der kræves ingen forudsætninger for at deltage og der vil være fri entre. Det vil sige det koster ikke noget at deltage, men donationer er velkommen, hvis man ønsker at støtte giver man hvad man kan eller vil.
Sted: Aktivitetshuset Bispen
Bispebroen 3, 6100 Haderslev
fredag den 17. april 2020
kl.19.00
**********
Tilmelding: Tel.: 29 89 51 87 eller mail: innerlighdk@yahoo.dk
**********
Så snart der er lavet brochurer til de forskellige nye arrangementer kan de downloades her
Du kan downloade din egen brochure her som word fil
og printe den som for og bagside på et almindeligt A4 ark i din printer