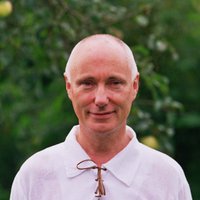 Tareth - sidste nyt!
Alle aktiviteter for 2021 er aflyst. Det er planlagt at Tareth kommer igen i foråret 2022. Vi håber det bedste
Tareth kommer til Danmark igen midt i november måned i år. Der bliver en todages workshop På Bispen i Haderslev lørdag den 13. og søndag den 14. november. Der bliver ingen særskilt healingsaften denne gang, men en healingsmeditation/Blessing from the source vil være en del af workshoppen om søndagen.

se mere om dette længere nede på siden. Der er hans egne beskrivelse af workhoppen i weekenden og nærmere oplysninger.

Er du interesseret i at høre mere, så kontakt os på innerlightdk@yahoo.dk eller
tlf. 29 89 51 87
Under punktet Innerlightcenter finder du en række nyttige kontatkoplysninger og links.
**********
Tareth Skriver:

My dear friends I am so happy that i can come and be with you again, i so looking forward to seeing you. As always, as we explore the path of the Grail within, it is the joy of coming together to share the Divine Light of the Source, where we can deepen our own source connection, by opening more of our being to the light within. Our growth is always expanding when we help each other with unconditional healing. From the sanctuary created, we will also send out our love and light into the world, which contributes to the collective consciousness.
Last October, I manifested galactic sounds from the centre of our galaxy, which is a doorway to other dimensions. In this time of great transition, these sounds can help us to manifest more of our own inner light that we have developed over incarnations and really bring into our lives now.
We will work deeply with these manifested sounds and along with spiritual guidance, I will channel from the Source, enabling each of us to manifest our highest-self and join together in order to create a beautiful soul light to shine out into the world. Of course, there will always be healing for everybody on every level of being, enabling you to really feel the soul connection within creation.
We will also work with THE ALCHEMY OF BREATH VISION AND SOUND Breath is an essential key to bring into harmony and balance your physical being with the life force of nature. Creation is sound and vision the consciousness within it bring out the best in you.You will learn breathing techniques that bring into balance your body and mind consciousness. This will help you to make deep contact with your soul wisdom and bring it into your life. The individuality within you will grow stronger and help in every aspect of your evolution as spiritual being here on earth. It is seeing the breath, feeling the sound and opening your soul vision, the essential doorway to your soul guidance that unlocks the abilities you have within you.
We will work to release any conditioning that stands in your way, increase your confidence and create a powerful healing channel which will always be there for you. How to deal with difficult situations that may feel in the way of your progress. We will then work with some specially chosen combinations of tareth 's manifested sounds to put you in touch with that vision of the whole being of creation that is within you and how to share it for yourself and others and we will include practice with each other to enhance this gift. I will also take you through a process where you will create your own symbol to work with the processes you have learned
As always there will be time for dialogue, questions and answers and healing and help for each other and I always leave a space for guidance that will come in the moment
On Sunday i will hold a healing meditation/Blessings from the Source to share healing and divine love with you
Workshop
To dages Workshop
DENMARK november 2021
Sted: Aktivitetshuset Bispen
Bispebroen 3, 6100 Haderslev
lørdag den 13. november og søndag den 14. november 2021
kl. 11.00 – 18.00
Blessings from the Source
This is a silent unconditional time of healing for all.
Tareth will lead a meditation and help us create a sanctuary of healing and love.
It is in this divine space that Tareth can manifest beautiful perfumed oil from his hands.
When Tareth manifests perfumed oil or sound it is a sign that we are never alone, what really manifests is love.
Be in the blissful connection of oneness, come and receive loving healing for empowerment of the Light that you really are.